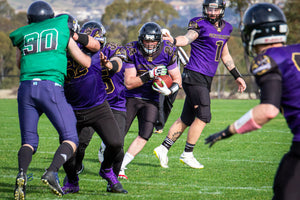 Centurions Take Game Two
The Centurions have won game two of the best-of-five series 22-6 over the Gladiators in windy conditions at Greenway Oval on Saturday.
After winning game one 36-0, the Cents wasted no time in getting on the score board when Wide Receiver James Micallef was on the end of a great pass from Quarterback Beau Kennett to make it 6-0 in the opening minutes.
The Gladiators were not to be outdone on the day and came close to scoring twice. They are much improved from week one but could not cross the line in the opening term.
Kennett and the Cents struggled to hit their target man with the ball in the 2nd quarter and gave away plenty of errors and penalties to keep the Glads in the game.
The Glads again struggled to capitalise on their good field position and didn't trouble the scorers.
The score remained 6-0 at the main break.
Beau Kennett took it upon himself to get the second set of points for the match ticking over in the 3rd when he crossed for his first touchdown of the season.
Jay Irvin added to the tally shortly after and it was quickly getting ugly for the Glads.
At 22-0 going into the 4th quarter, the Gladiators threw caution to the wind and forced a fumble on the Centurions goal line. On the next play, Troy Wykes opened the scoring for the Glads to make it 22-6.
The Glads are on the improve and will challenge again. They left plenty on the field and will be stronger for it next game. The Cents have work to do on both sides of the ball but are close to sealing the title for the 2020 season.
Next week is a bye for the long weekend. Get down to Greenway Oval in Tuggeranong on Saturday 10th October at 3pm for the Juniors and 6pm for the Mens.
Chris Spinks – Freelance Sports Writer
Twitter - @SpinksyNFL
(+61) 406 501 250
---