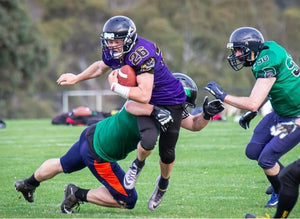 Centurions Start Title Defence With A Bang
The 2020 ACT Gridiron season opened with a bang on Saturday at Greenway Oval in Tuggeranong.
The defending champion Centurions started their title defence with a comprehensive 36-0 victory of the Gladiators
The shortened season sees both teams competing in a best-of-five series with the winner being crowned on October 24th
The newly re-formed Gladiators have a lot of work to do but showed signs of keeping pace with the champs if they can work hard in training this week.
Receiver Matt Garrett was on the end of a stellar pass from Quarterback Beau Kennett to open the scoring. The 70-yard completion was Garrett's first for the Centurions this season but wouldn't be the last of the day.
The Centurions applied all the pressure in the first quarter and should've had another touchdown but it wasn't to be.
Jayson Irvin and James Micallef added TDs in the 2nd quarter to make it 22-0 at the main break.
Garrett added a second to open the third quarter and with the score at 30-0, things were looking ugly for the Gladiators.
Defensive woes and poor communication were the catalyst for a muffed punt that lead to Irvin crossing for his second of the match and the final score. Making it a hard return to the league for the Gladiators.
One huge positive was the inclusion of the first female player to play in a men's team in the ACT competition. Daniela Stoŝić played in the Offensive Line for the Glads and produced plenty of memorable moments.
Everyone involved in the return of the competition should be proud of their efforts, none more so than Centurions player Julian Ciempka who returned to the field after a two-year absence from a horrific leg injury in 2018.
In the Juniors' game, the Firebirds overcame a persistent Gladiators team to record a win to open the season 22 - 6.
Get down to Greenway Oval in Tuggeranong this Saturday for round two.
11.30 Juniors - Firebirds v Gladiators
1.30 Men's – Gladiators v Centurions
Chris Spinks – Freelance Sports Writer
Twitter - @SpinksyCFB
(+61) 406 501 250
---